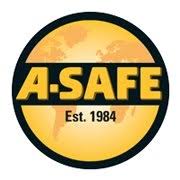 A-SAFE utilise the most sophisticated materials, combined with unrivalled innovative design to bring the highest standard of patented, industry-leading safety products.
What is A-SAFE and what do they do?
A-SAFE was established in 1984, and are specialist manufacturers of high-performance safety and protection barriers and several associated products. Many other barriers and protection products require a full replacement after an accident, and with additional damage to both the floor, any epoxy coatings and even the vehicle involved in a safety incident. The A-SAFE barrier systems provides a unique difference, with its significantly lower chance of needing full-replacement after an accident and reduced or even no damage to the floor or vehicle involved in the incident.
---
What are the major benefits of the A-SAFE system?
There are several major benefits held by the A-SAFE brand over competing safety and protection barriers.
Savings
One of the more impressive accolades of the A-SAFE brand was their implementation into Gatwick Airport, and the gue savings the airport made due to A-SAFE's innovative technology and product design.
The total cost of barrier and floor for the airport when using a traditional steel barrier over a 5 year period was over $80,000!
The total cost of barrier and floor for the airport when using the A-SAFE barrier system over a 5 year period was just over $12,000!
Research & Development
The A-SAFE expertise and experience, combined with the extensive product design, production, and testing, results in the highest quality safety and protective barriers.
A-SAFE has a highly skilled and innovative Research and Development team, aimed at finding innovative and smart solutions to complex problems. the A-SAFE R&D team also treats every product like a project, with an aim to continuously improve and evolve to ensure the product is serving its function as best as possible.
---
A-SAFE Products
A-SAFE iFlex Barriers
The A-SAFE iFlex Barrier range is at the forefront of protection and safety, with the ability to absorb impacts from workplace vehicles, and reform to its original shape. Highly visible and ultra-low maintenance, A-SAFE iFlex Barriers are tested and independently verified, giving you the confidence that quality is central to the A-SAFE design.
Download Brochures –
A-SAFE iFlex Double Traffic Plus Barrier Brochure
---
A-SAFE iFlex Barrier vs Fork Lift
---
A-SAFE iFlex Barrier vs Steel Barrier
---
A-SAFE iFlex Double Traffic Barrier Ramp Test
---
A-SAFE Bollard
A-SAFE bollards are a multifunctional product, critical for traffic management in and around the workplace, and the segregation of people from vehicles. One of the more impressive features of the bollard range, is the ability to reduce or cause no floor damage in a collision, due mainly to the scientifically designed impact absorption. Highly visible and ultra-low maintenance, the, A-SAFE Bollards are at the forefront of safety and protection.
Download Brochure –
---
A-SAFE FlexiShield Column Guard
The A-SAFE FlexiShield technology was designed to provide maximum protection and engineered for maximum performance. Easy to install, with interlocking sections for the tightest fit on columns, overall optimising space and avoiding vulnerable gaps, the FlexiShield is a must have for column safety!
Download Brochure –
A-SAFE FlexiShield Column Guard Brochure
---
A-SAFE iFlex RackGuard
Rack protection is vital for any workplace, whether it's from the side or front, the iFlexi scientific design will significantly reduce the effects of unforeseen impact. Built-in memory and a uniquely designed compression hinge make this product a must-have for your workplace.
Download Brochure –
A-SAFE iFlex RackGuard Brochure
---
Industry Solutions
A-SAFE products can are suitable for a variety of different industries and sectors.
Industries
Carparks
Suited for upgrades or renovations to your carpark, A-SAFE will tailor safety solutions to your requirements, defining vehicle and pedestrian boundaries, perimeter protection, and deterring vandalism – more importantly A-SAFE Products significantly reduce vehicle damage sustained in Carparking environments when compared to Std Steel Products!
Manufacturing
A-SAFE design products made to protect your manufacturing process from start to finish, safeguarding pedestrians and drivers, protecting important equipment and reducing overall costs.
Warehousing & Distribution
A-SAFE warehousing safety solutions will increase your operational efficiency and streamline your facility. Purpose-designed products aim to safeguard you against repetitive repair costs.
Architecture & Specification
A-SAFE solutions are perfect for new build projects, importantly taking concept, manufacturing, testing installation, maintenance and design all into account.
---
Sectors
A-Safe operate in a range of sectors:
Automotive
Chemical & Nuclear
Food & Drink
Health & Hygiene
Packaging
Retail
Construction
---
Let us partner with you today!