Jade Engineering assisted Modular Farms throughout the design and construction of their modules.
One thing at JADE engineering we take enormous pride in is, our ability to understand the full scope of a client project and create innovative and efficient solutions to client problems. We understand that the solution to complicated problems can be very simple, and can fully appreciate this through our early involvement in projects and care taken in ensuring we assist from the start of the project, through to the end of a project.
Here is how we helped Modular Farms turn their idea into reality.
Modular Farms Australia custom design modular farm systems, capable of producing healthy plants in any part of the globe, in any climate. Based on the idea of an urban farm, these custom designed systems can be scaled to requirements with additional modules available, for different purposes.
How does it work?
The Modular Farms Australia high-volume modules are systems entirely focused on the health of the plants within the module and the farmer Return On Investment (ROI). By partnering with the leading experts in plant health sciences, indoor agriculture and LED lighting, to create excellent and sustainable vertical farming solutions. The interior of the modules are designed to simulate different growing environments, in accordance with the plants within the module. The 36sqm Modular Farm Footprint Produces an output in excess of 1000sqm of a traditional farmland footprint.
---
Features of the modules
Convenience and Automation
Convenience and automation are given features of the modular farming system. The custom built modules are an approximate size of 12m x 3m x 3m, and are portable, with the ability to be shipped on a freight truck, a train or even sea vessel. This convenience extends to the delivery of the delivery and unloading of a Modular Farm system. Taking only 3 to 5 hours to unload, with the option of having a Modular Farm Field Agent present onsite on the day of delivery, overseeing the set-up of the module and even the tradespeople onsite.
Advanced climate controls
Climate control is highly important by means to produce the best possible crops for farmers. The modular farms' system is a "Purpose built insulated Closed Loop Growing Module", which ensures the best possible growing conditions for the produce. A HVAC system cools the module to keep conditions of the growing plants ideal, and typically requires a 50-amp service producing approximately 280kwh per day for primary Module.
Purpose-built LEDs & Sustainable Farming
Modular design customisable, slim-profile LEDs that are 2-sided, emitting a lower BTU and heat signature, reducing wasted heat dispersal. This innovative LED design works in-tandem with the hydroponic, closed loop system using 95% less water than a typical outdoor farm. Combined with energy efficient and adjustable components, means 30% less energy is in use than soil-based farms, resulting in less than 5% crop loss.
Quality of life features
Modular Farms Australia innovative design and research have allowed them to yield crop volume up to 80% over competing container farms. Nearly any crop can be grown in the modular farm, however, the greatest degree of success has been found in leafy green produce. These include popular crops such as:
Rocket
Bok Choy
Kale
Oakleaf lettuce
Basil
Mint
Thyme
Oregano
The successful growth of these crops, in particular, is due to the Modular Farms HEPA filtered air intake and exhaust system, combined with a closed-loop water recycling system and commercial grade air-conditioning and dehumidification.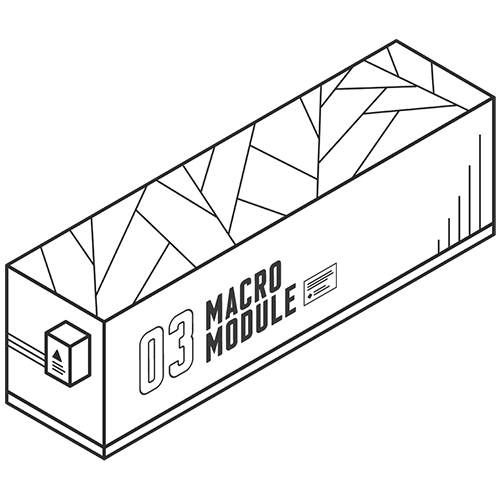 Have you got a custom project you want to turn into a reality? Contact Jade Engineering today to see how we can work together to make that happen.
---
How was the overall experience for this client?
"Working with Jade has allowed an innovative agricultural business like ours to flourish with the expertise delivered by Jade Engineering. Their ability to submerse themselves into our project and offer intelligent solutions that improve and refine the development of our system has been crucial to the success of our Modular Farms. The quality of work delivered allows us to promote a high standard and quality that no one in our industry could offer."

James Pateras, MD at Modular Farms Australia.